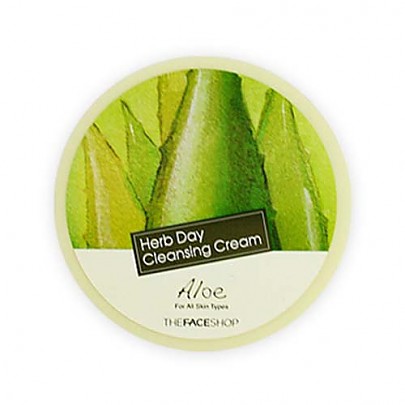 The face shop Herbday cleansing cream Aloe 150ml
$4.99
A mild cleansing cream, which contains fresh aloe and herb ingredient, dampens and replenishes skin even after cleansing​.
What are cleansing creams: Cleansing cream is a skin care product that washes and moisturizes your skin, getting rid of dirt, sweat, makeup and bacteria.
It is usually made from a combination of mineral oil, petrolatum, water and waxes.​
Description
Ingredients
How to use
Additional information
Reviews (0)
Description
Description
A mild cleansing cream, which contains fresh aloe and herb ingredient, dampens and replenishes skin even after cleansing​.
What are cleansing creams: Cleansing cream is a skin care product that washes and moisturizes your skin, getting rid of dirt, sweat, makeup and bacteria.
It is usually made from a combination of mineral oil, petrolatum, water and waxes.​
Suggested Use
Get adequate amount on palms. Massage the face until the make up base gets off. Wipe it out with tissue. Use cleansing foam as the last step.​
Ingredients
Purified water, mineral oil, di-propylene glycol, isopropyl myristate, cetearyl alcohol, polysorbate 60, cetearyl glucoside, sorbitan up the bait, dimethicone, aloe vera leaf extract (2500ppm) · sage leaf extract · rooibos extract, Madonna lily flower extract, chamomile flower extract, borage extract, cornflower flower extract, Slough Rick Acid, Carbomer, Butylene glycol, potassium hydroxide, disodium this dt Avon, methyl paraben, echil paraben , propyl paraben, fragrance, caramel, green No. 3
Purified water, mineral oil, di-propylene glycol, isopropyl myristate, cetearyl alcohol, polysorbate 60, cetearyl glucoside, sorbitan up the bait, dimethicone, aloe vera leaf extract (2500ppm) · sage leaf extract · rooibos extract, Madonna lily flower e
Get adequate amount on palms. Massage the face until the make up base gets off. Wipe it out with tissue. Use cleansing foam as the last step.​